Withdrawal Support & Relapse Intervention in Denver, CO
Life-Line Colorado works with people of any background to assist in reentry and youth violence reduction. We provide
counseling
, mentoring,
substance abuse treatments
, pro-social activities, life skills, resource connections, career exploration, and job readiness training. Life-Line Colorado is a WAGEES grant provider of re-entry help for people coming out of prison. We specialize in programs that support fatherhood, gang disengagement, substance abuse, and aggression replacement.
Life-Line Colorado is a community outreach and support program designed to assist our local at-risk population. We focus on strategic relapse intervention and relapse prevention, withdrawal support, and re-entry programming, helping members of our community live productive, fruitful lives. We work to replace drugs, alcohol and violence with love, security and safety, providing a wide range of services to anyone who needs them.
 




Never Give Up, Never Let Go
Not everyone has the same opportunities or advantages in life. For those without, the constant struggle, pressure and temptation of their environment can send them down a path they don't want to be on, but don't know how to get off of. Sometimes, they need a life-line to help them get back on track.
Life-Line Colorado is attuned to the struggles and needs of our local at-risk populations. We strive to provide the resources and programs they need to stay on the straight and narrow path, and to correct their trajectory when they've gone astray. From rehabilitation services after incarceration to withdrawal support, we help you make the most of your situation and start making choices that had lasting, positive effects on your life.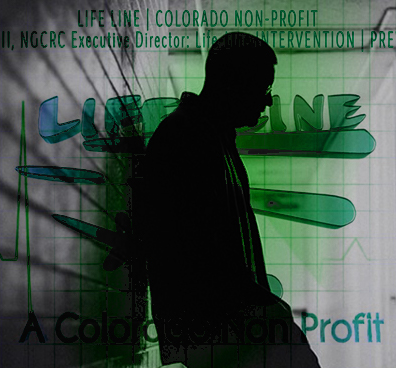 We focus primarily on intervention, prevention, and re-entry
Specifically relapse prevention for youths and teens and sobriety for adults. Alongside this, we have counseling programs available for your mental health, helping you feel more in control of your life and attuned to your decisions. Most importantly, we're here to support you in whatever way you need to live a positive life—whether it's help with a GED or accountability for relapse prevention in Denver, CO.
Wherever you're at, whatever you've seen, we understand. We've been there before. But we also know how to rise above it and take your life to a better place. It starts with Life-Line Colorado. We'll teach you the power of perseverance: How to never give up and never let go.

We provide essential, sometimes life-saving services to at-risk individuals, including relapse intervention, prevention, re-entry, case management and counseling services

We focus on helping our local population maintain a life that's free of drugs, alcohol, gang affiliation and violence.

More than just prevention or rehabilitation, we also provide assistance with things like GED preparation, job placement and more.

We're affiliated with the Colorado Criminal Justice Reform Coalition, Colorado Gives, Denver Inner City Parish and various other municipal organizations.

Program Director Leo Alirez Ph.D is a Certified Addictions Counselor CACIII, affiliated with the National Gang Crime Research Center (NGCRC).
Our Mission Statement
To engage, impact and empower our participants to identify their purpose and to actively assist them in giving back to family and community through a foundation of LOVE, SECURITY, and SAFETY. This is all achieved by comprehensive and strategic intervention, prevention, and re-entry programming.
Providing Substance Abuse Counseling & Relapse Prevention to Denver CO & surrounding areas
Aurora, CO
Bent County, CO
Boulder, CO
Burlington, CO
Cañon City, CO
Colorado Springs, CO
Crowley County, CO
Denver, CO
Florence, CO
Golden, CO
Greeley, CO
Hudson, CO
Las Animas, CO
Limon, CO
Littleton, CO
Model, CO
Olney Springs, CO
Ordway, CO
Pueblo, CO
Sterling, CO